Bouquet's eBooks Shop
Central Index page with links to full details on each Book, AND to the eBooks Shop page. However, under each description, whether long, short, or just a line under a cover image on the "Shop" page, you will find a button that pops up the Buy Now Payment window so you can pay for that one book immediately. If you know you want to select several ebooks go to the eBooks Shop Page where you can select as many books as you want before you go to the Payment window.
Categories (below): Novel ~ Family History & Genealogy ~ Devotional/Spiritual ~ Business Ideas ~ Friends/Guests' Books ~ Poetry & Photo Albums ~Seasonal Topics
My Novel: Ruthe's Secret Roses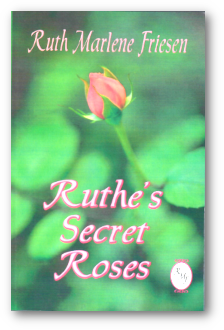 Ruthe, just graduating from high school in the early 1970s in a small town in Saskatchewan, Canada, commutes to the city of Saskatoon as a telephone operator. BUT in her off hours, she gets involved in the lives of people who are abused, hurting, bereaved, dying and spiritually hungry. She is afraid to tell her Mennonite family back home for reasons of her own, and this leads her to live a double life. You know the pressures build. Sooner or later she has to take some of the advice she gives others, for she gets into serious trouble.
This novel is available as a paperback and is available in two formats. The eBook (download) is $7.00 Cdn. The paperback ships from the USA and includes exchange fees. Go to BookLocker It is $19.95 in US funds.
In fact, you can begin reading Ruthe's Secret Roses immediately!
Want more details? GO HERE!
Download of Ruthe's Secret Roses for $7.00 Cdn
Family History & Genealogy Books
A Godly Inheritance
Meet my beloved Gr'ma and discover what makes a godly woman, and how I cared for her those 9 months while we waited for the nursing home opening. This book is for you too, if you are interested in family sagas.
This is a family history book, written to honour my beloved Grosz'mama, or Gr'ma. I started in 1985 and completed the first edition in October 1988, after taking a break to care for dear Gr'ma at my parents' home, until there was an opening for her at the Rosthern Nursing Home. Mom was not well either, so it fell to me to stay up most nights to care for Gr'ma, deal with her endless questions, and to keep putting her back into bed. Even though she could hardly see any more, she taught me her Gothic handwriting alphabet - so when she was in the nursing home I could focus on translating her journals - thus writing most of the book from her perspective. It clearly shows how important family members and her faith were to her.
I learned to love and appreciate Gr'ma even more in those last few years. Truly, I feel she gave me a godly inheritance that I treasure!
For even MORE DETAILS see: A Godly Inheritance
(digital download for $ 25.00 Cdn
Grandpa's Stories
- My Dad and his Dad were Storytellers!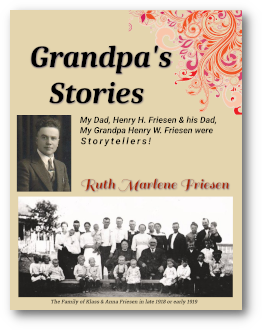 This e-book has stories from old-timers like my Dad and my Grandpa Friesen - plus genealogies of all of Dad's ancestors as far back as I've found them. The longest is the DeVeer line that goes back 11 generations to a Jan DeVeer born in 1521.
Are you researching your Friesen, DeVeer, Spents, Giesbrechts, Warkentins, or Hiedebrechts? You may very well find some help in this book.
For MORE DETAILS see: Grandpa's Stories (digital download with 287 pages
$20.00 Cdn to download.)
Our Network of Neudorfs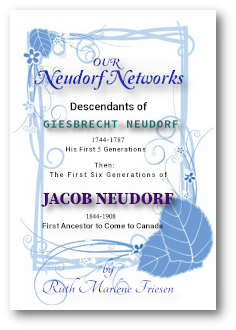 This is an e-book is especially for Neudorfs and those interested in looking for more Neudorf connections. It has some background pages on the Neudorf connections to our family.
Then it shows the descendants of Giesbrecht Neudorf born in 1744 to a depth of 5 generations. (Watch for the little personal story notes on various individuals as included by other researchers). Next we pick up with Jacob Neudorf - who is mentioned in the first section.
This Jacob Neudorf of 1844 is the first of our ancestors to come to Canada in 1891. He was first married to an Anna Peters and had nine children with her. She died. and Jacob married Katharina Reimer, and had another nine children with her. They were the couple who brought the surving children to Rosthern area (except for Susanna who stayed behind to marry in Chortitza, South Russia.
Six generations of Jacob's Descendants are included in the genealogy with what information has been gathered about the people - (Gr'ma's 81 First Cousins!) and their families, - of which YOU may be one! ; )
For MORE DETAILS see: Our Neudorf Networks

$15.00 Cdn to download.
Our Friesens & Assorted Friesens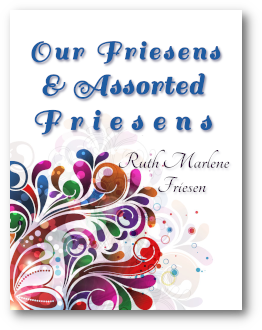 - Searching for a Common Ancestor
to both Dad's & Mom's Friesen Lines
This e-book may be just what you need if you are researching your Friesen genealogy, and have got stuck! In fact, we may be able to help each other out!
I have a hunch; since Dad's earliest Friesen ancestor (Abraham von Riesen) lived in Teigenhoff, Prussia, and Mom's earliest Friesen ancestor (Johan von Riesen) lived in Stebbendorf, Prussia - two villages only 7 miles apart - that if I can find one or two more generation before these two men, I can prove that they come from the same original ancestor.
In looking for the connection between my Dad's Friesens and my Mom's Friesen lines, I had collected 30 other Friesen lines, in my previous edition of this book in 2005. Some genealogy pen pals spotted clues that tied some of them together. That reduced that number somewhat.
After Dad died I had to get to work and earn my own living, so I put my genealogy hobby aside. But in 2021, I took it up again, and did more research and discovered that about 10 of those Assorted Friesen trees now had a common Ancestor, which reduced my total to just 18 Assorted Friesen trees! (Besides ours).
My hope is that by publishing this book, updated, and with much more information, someone - or several people - may be able to point out connections that tie more of these Friesen lines to a common ancestor. Why, YOU might spot someone from YOUR Friesen tree! Then in turn, I may realize that your Friesen line ties into one or both of mine! Wow! That would be exciting!
For MORE DETAILS see: Our Friesens & Assorted Friesens
40.00 Cdn to download
Legal Land Descriptions Map Coordinates & Homesteads and/or: A Laminated Quick Reference Sheet
(this has to be mailed)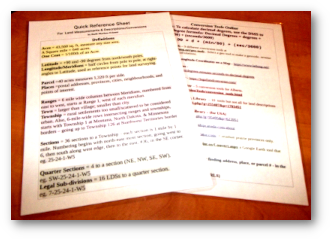 This 19 page eBook contains basic information useful for:
- Researching your immigrant ancestors' homesteads,
- or, Finding land to pioneer for your family,
- or, GeoCaching and Treasure Hunt Games.
It is useful to know how to Convert Saskatchewan Legal Land Descriptions to Map Coordinates so that you can better use Google Earth to see certain homesteads and properties online.
A number of people who have a Saskatchewan land description of their family's Home Quarter or of a cemetery wonder how to find it's location on an online map like Google Map. One must usually enter into Google Map a set of map coordinates for example: 52.6631°N and 97.9959°W. (This ebook is a help for other provinces and places too).
For MORE DETAILS see Land Descriptions, Map Coordinates & Homesteads (see also, the optional laminated Quick Reference Sheet). The eBook @ $12 Cdn to download, but the Quick Reference Sheet $10.00 Cdn will be mailed to you.
$12 Cdn for ebook. ($10 Cdn for the Quick Reference Sheet)
($10 Cdn for the Quick Reference Sheet)
Business Ideas
40 Online Business Ideas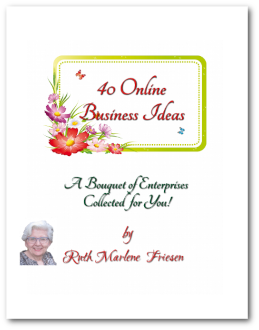 Do I REALLY have a Bouquet of Enterprises for You?
Yes, if you see each business idea as a flower, I do have quite a bouquet of them to look over! I run about half a dozen businesses myself. Sometimes more when I count the occasional ones I try out.
Please look these business ideas over, consider the requirements, startup costs, and possible time frames necessary, and decide which business you will try – first! The wisest online business owners – and I, too - strongly advise that you only start with one business idea at the beginning. Work hard at that one business for at least three months before you either give up on that idea, or start another one along side it.
For MORE DETAILS see: 40 Online Business Ideas
$4.00 Cdn (to make it truly affordable)

The Color of Money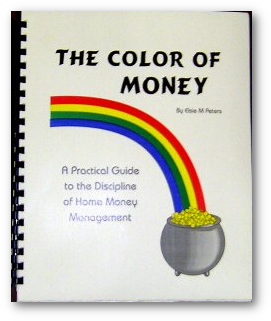 Does your money leave you so fast you hardly recall what color of money you had? You need a SIMPLE way to track your money. Simple enough for a child in elementary school, right?
Here's your answer: you will overcome your fear of bookkeeping and learn to use a simple, personal budgeting system. If you want you can expand to more advanced systems later, but this is a great starting point if you feel overwhelmed by the very idea of recording your incomes and expenses.
My sister Elsie, designed The Color of Money as a simple, easy to understand and use accounting book, - mainly to encourage those who fear budgeting and recording the ins and outs of their money. You can be in control of your finances after all.
NOTE: this is not a digital download; it is a physical cerlox-bound paper book and will be mailed to you, when you order it.
For MORE DETAILS see Color of Money
9.8oz 32cm long X 28 cm wide X 1.5 cm thick
$25/ea Cdn
eBooks by My Writer Friends & Guests
The Biblical Guide and Relationship Tips for Searching Singles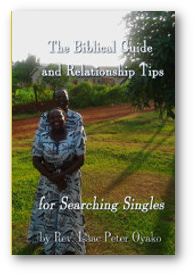 Listen, you have been a searching single long enough! You have wondered if God has given any practical steps for finding a marriage partner? Right?
Yes! His answers are in the Biblical Guide that may be right close to your hands. Ah, but you don't recognize anything in the Bible as applicable to your situation? Is that true?
Here's a great tip for you then - Pastor Isaac Peter Oyako, a well-known Ugandan evangelist and counsellor of young people, with exactly your questions, has written a book that will help you find that advice in the Bible. It will help you understand it clearly, and how positively practical it is if you apply it. God does want you happily married - but on HIS terms.
The book you want and NEED is Oyako's The Biblical Guide and Relationship Tips for Searching Singles!
MORE details at: The Biblical Guide and Relationship Tips fro Searching Singles - by Rev. Isaac Peter Oyako
$7.00 Cdn
Quizzes for Spoken and Written English for Your Success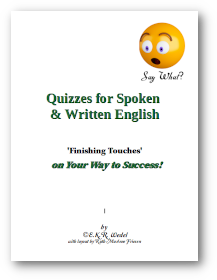 Is is possible that your poor English grammar and spelling might embarrass you?
Have you noticed how many signs and memes there are in which people make fun of s entences with bad grammar? It is almost like a new brand of humor. I did a Google search the other day just to see how vast this topic is, and almost felt overwhelmed by the flood of sites and videos and public signs that individuals had photographed to mock the grammatical errors in those signs or memes (quotes).
You may have shrugged off your poor English grammar or spelling, hoping no one would notice - But now you feel more nervous when you see such faux pau signs made fun of, right?
Of course, we can hold back from commenting on such signs, and be extra careful about not showing anyone our written notes. We feel pretty confident that no one knows about our grammatical errors, eh?
MORE details at: Quizzes for Spoken and Written English for Your Success
$9.99.00 Cdn eBook only
$16.99 Cdn FOR KIT EDITION!
Poetry
Heart2Heart (poetry chapbook)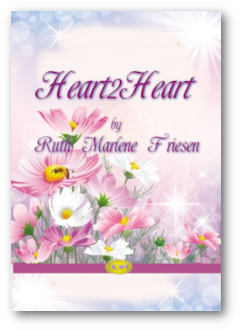 When my dear friend Kathy mentioned on the phone early in January of 1996, that she wished she could discipline herself to write more poetry, I came up with an idea to help both of us. I suggested that we pledge to each write at least one poem a month, and whenever we were talking together, we could feel free to ask the other, "So, have you written your poem yet for this month?"
By Christmas I had printed and bound a few for each of us to give away as our Christmas gifts. I've updated and polished mine up with new graphics.
MORE details at: Heart2Heart
$7.00 Cdn to download
Seasonal Topics
13 Christmas Meditations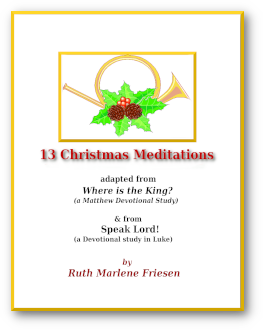 This thin booklet of 17 pages is a collection of devotional reading and my inner thoughts as I tried to apply that part of the Christmas story to my own attitudes and responses - as compared to the characters that were actually involved in all those parts of the Christmas story. Some are from my devotional studies of Matthew and some from Luke.
This makes a good booklet to tuck into a Christmas card for giving away. The recipient will be grateful for more than just a lovely card image and your signature inside.
If you find it too hard to print out a copy, but you use email, simply include it an attached PDF file (that assumes that you saved "13 Christmas Meditations" on your computer when you bought and downloaded it.)
13 Meditations for Christmas
(my Christmas gift for 2005) Updated in 2022!
$3.00 Cdn to download.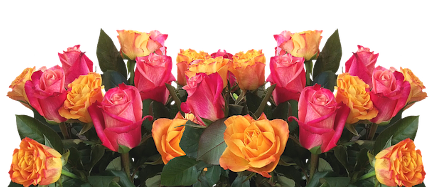 . . . . . . . . . . . . . . . . . . . . . . . . . . . . . . . . . . . . .


. . . . . . . . . . . . . . . . . . . . . . . . . . . . . . . . . . . . .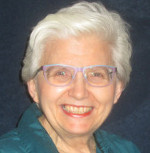 Ruth Marlene Friesen
The Responsible One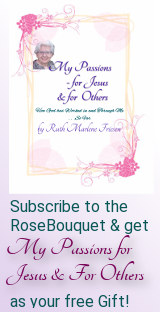 Author Card
Privacy Promises ~~ Sitemap
Ruthe's Secret Roses (official site)
©2001-2023 Ruth Marlene Friesen
Saskatoon, Saskatchewan, Canada