New Home of My RoseBouquet
(Note: there have been massive attacks on WordPress (blog) sites in 2020. I got quite weary of fighting them off, so decided to move my posts and pages back to just ordinary webpages again. Like I've been building since 1999, except that now I use Responsive Design methods so the pages can be easily seen from any electronic device. In making this move I've discovered that many other web developers who grew up only knowing how to do WordPress websites are now making the switch to "static" sites too - because they are faster and more secure! So now I don't have to apologize for this decision. It is the best one possible! - Thank You, Lord!)
So this is the new home page or index to My RoseBouquet. You will normally find my most recent or current weekly posts here. But the following week I will move them to a permanent page of their own, and replace them with the new Current post here.
I'm moving my most evergreen articles of the past year or so here to this location. Those that were temporary, that is, referring to some event, or announced one up-coming, but which has past, will not be set up here. (What's the point? Would you eat last month's left-overs?)
Go to the Archives Index if you wish to check for an older article from 2020. Otherwise, watch for announcements of new e-books that I expect to produce that will share the best of the older issues. At the moment there are 905 issues of the RoseBouquet that was published as blog posts, as an xml file (for Feed Readers), and as an ezine emailed to my subscribers.
Your best move, if you are afraid of forgetting to come back here every week, just subscribe to the RoseBouquet, and it will come to you by email. Sure. Why not? It's Free and painless!
______________________________________
<*><*><*><*><*><*><*><*><*><*><*><*>
RoseBouquet - About and FOR Friends of
Ruthe's Secret Roses. (Ezine edition)
________________________________________
<*><*><*><*><*><*><*><*><*><*><*><*>
#918 vol.20 March 30, 2021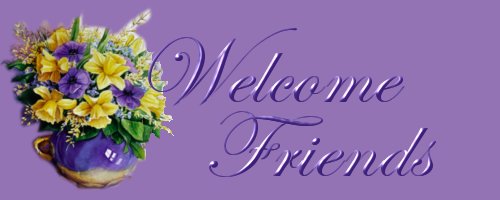 At My Place: My First Ever Easter Lily!
Last week the dear and gracious leaders of our ESL class in our church, came by again - (they do this fairly frequently) with gifts. They brought me a plate of Chinese food that that lasted me for 3 meals, plus a bag of 4 loaves of brown multigrain bread, and then they handed me a potted lily which they said was from the church. (At Christmas it was a pointsetta).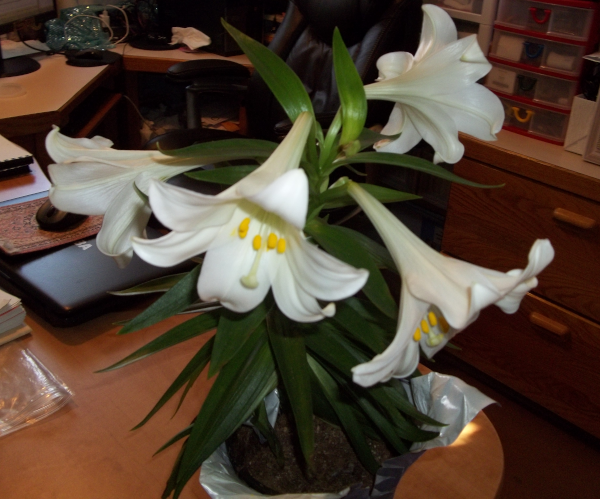 It was the very first time I've ever been given an Easter lily, and though the flowers were not quite open yet, I was delighted. I set it up on the shelf at my east window so it would get sunlight.
By Good Friday at least 3-4 lilies had opened up! I did't get around to taking photos though until yesterday, and then I had to pinch out a couple of lilies that were turning brown.
When my neighbour Rita popped by for a minute, she spied the lily plant right away. She wondered if I would be able to plant it outside for the summer. I had no idea, but I went to check online and discovered that yes, it is possible to plant it outside as it is a prennial, and it will bloom again - but I think that will only be in more temperate zones - like further south. However, I'm willing to try it! (As a potted plant it will only bloom once).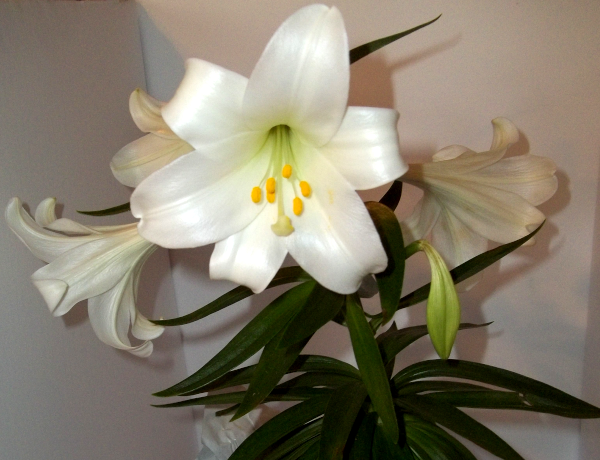 I trust you were blessed in some way over Easter too. Even if it was only that you got a fresh thrill from the awesome, tremendous gifts God gave us at the first Easter; salvation, eternal life (through Jesus' resurrection from the dead), and then a little later - the gift of His HOLY SPIRIT - who is like Jesus in residence in us!
___________________________________________
The RoseBouquet is a weekly Ezine of Ruthes-SecretRoses.com
You can also get The RoseBouquet as an RSS feed in your news Reader.
Just paste in this link; Ruthes-SecretRoses.com/RoseBouquet.xml
Better still: subscribe to the Ezine here:
https://Ruthes-SecretRoses.com/rb/Subscribe-to-Ezine-Edition-of-RoseBouquet.shtml
_______________________________________________
What's New: The Value of Our Family's Stories
I'm still gathering names and dates for my genealogical database, but now I'm to the point where I email or call up relatives that I haven't talk to for years, and we get off on many tangents so each call turns into a lively and fascinating conversation. I had one such call yesterday morning.
If I can get a few more calls in, and receive replies from some emails I sent out, I may get this wrapped up as well as it is possible, and then - when I can get my printer to work again! - start putting together my new editions of the genealogies and family stories to set up for sale on my genealogy website.
I do not plan to produce printed editions, except in rare case of seniors who have no computer or printer to print out the e-books for themselves, nor the resources to bind them. I can offer, as a very special service then, to print out the book of their choice, bind it and send it to them, but I will charge for this service.
Oh, I had interesting experience and epiphany on Sunday evening as I was transcribing, and trying to condense the large, 4 lb book I produced in 1988 - after a 3 year process of translating my Gr'ma Kroeker's journal over several decades and then writing up a fairly detailed history of her life, mostly from her perspective.
Back then I had no income. I produced this book as Gr'ma's "godly inheritance" for her descendants using whatever I found for the taking in my parents' home, or that was given to me, including 2 Gestetners to crank off the pages, and then binding them by hand with a toothbrush to put the glue into the spine.... Well, that's all a long story. But I've often wondered since if I didn't go into far too much detail in that book. (I kept hearing Mom's constant reminders throughout my life to finish what I started and to do it thoroughly).
Well, Sunday night I came to the part where my Mom was gored by a cow. I was only 4 1/2 years old at the time, so my memories are vague, and probably absorbed mostly from the things I overheard from the adults in my life. However, because I had followed Gr'ma's journals fairly closely I saw exactly what day that happened, and how long it too, before she was taken to hospital as everyone thought she was going to die. Then, some weeks later she was taken to the University hospital in Saskatoon for some major repairs and re-construction of her internal organs.
Suddenly I was glad that we had Gr'ma's details journal to see when and how things happened!
I am still trying to tighten up my writing, but I will certainly leave important events like that in this edition of, "A Godly Inheritance," though I do hope this will not weigh 4 lbs.
Hey, as I get older my memory gets fuzzy too, and I need this kind of reference point for our family's stories. Our younger generations will only be able to claim and own these stories if they are available to them in English. :)
Listen. This applies to your family's stories as well. What can you do to preserve them?
<<*>> TIPS & SOLUTIONS: <<*>>
The Artist Put a Girl Inside the Tree
A friend sent me a link to this video. It is truly astonishing. I thought you would enjoy this as well.