Beyond this Arbour Gate You will Find
If you are looking to get to know me better - this is the place!
Once we get walking with someone in their garden, beyond the gate, we become more intimate and open in what we share with one another. Just as you wouldn't invite me to your table unless you were prepared to be my friend, so I wouldn't invite you into my spiritual garden unless I was was open to being your friend.
But I'm inviting you right now!
You are welcome to access all the resources of this site. This Author's Arbour Section is especially meant for those who want to get to know me better. I share a number of personal facets and sides of me.
You are very special to me if you have chosen to buy and read the novel, Ruthe's Secret Roses, and I KNOW we are going to become good friends, so I want to provide special things for you.
Beyond this private Arbour Gate, I've added some personal pages with photos, history, and so on. I may add some story-telling games too.
Mentoring - is something that many women are eager to have. A wise, older sister or mother- like person to be your friend and give you loving but when necessary frank advice. Encouragement by the bushel basket too! When you feel you know me well enough to trust me, do write to me and tell me something about yourself so we can initiate such a mentoring-friendship.
I have a growing Sharing Library, where you may read a generous supply of inspirational articles, as well as some helpfuls advice on marketing, ethics in business, counsel on web design, and many other topics.
My Sharing Library includes Reviews of Books I can highly recommend.
It has taken some time to get the Gifts and Resources area off the ground. It has gifts and books, and helps for those New-to-the-Net, or starting an internet business, and wanting God involved. Help yourself if you find useful ideas there. I hope to add to it as I am able.
I did have quite a few photo story pages in the Patio area for the last couple of decades, but looking them over, I realize that is is not wise to expose my family members to the public where some might miss-use those photos. Especially, if they are still alive. So I'm removing many of those pages, but may turn some into ebooks that I will share under specific conditions.
Instead, I will focus more on offering guidelines and assistance to those who wish to become published writers. Also to those who find themselves with parents who need care, and major decisions need to be made for which they may not have prepared you. In fact, I think the next book I will be writing will share my experiences as a live-in caregiver for both of my parents and my maternal Gr'ma for a limited time.
If you are looking for good one-page devotional articles to encourage you in growing more intimate with our dear Lord JESUS, I would direct you to my special area about Intimacy with God. Look especially for the daily study of a few verses in Matthew.
The best and easiest way to get to know me is to subscribe to my RoseBouquet ezine, so it comes to you weekly by email.
If you prefer it in your RSS feedreader, simply put this URL for the RoseBouquet into your RSS feedreader. There you will get a brief excerpt of each of the three parts, and a link to go read it on my website in a second or two.
Arbour Pages: Photos of My Parents ~ Dad at 90 ~~ Day of Dad's Funeral ~~ New Author Pics (2005-2006) ~~ Friendship - About Helping Your Friend Succeed ~~ Defining Mentor or Merea ~~ Let me learn English and READ! ~~ What it Takes to Write for Kids ~~ Writing Tips ~~ Publishing Tips for Do-It-Yourself-ers ~~ Successful Goal setting Spiritual Retreat ~~ Come Tour Hague, my Hometown~~ Arbour Index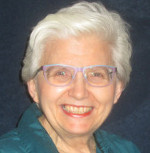 Ruth Marlene Friesen
The Responsible One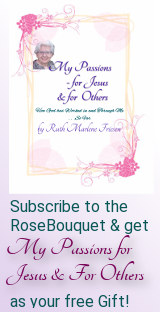 Author Card
Privacy Promises ~~ Sitemap
Ruthe's Secret Roses (official site)
©2001-2022 Ruth Marlene Friesen
Saskatoon, Saskatchewan, Canada