Defining a Mentor (or Merea) and Mentoring
The word mentor originates in Greek mythology when a young man is tutored by an older man, while his father is away at war.
However, the Bible is full of examples from earlier eras, so we know the concept goes much further back and is a plan that God likes to use in polishing or developing us. Aside from how the laws given to Moses indicated that parents were to teach their own children this way, there are many special relationships described like; Moses and Joshua, Naomi and Ruth, Paul and Timothy.
Recent studies in North America show that young women get very enthused when they hear of a program, as in a church, that promises to match them up with a godly older woman to mentor them. They LOVE the idea!
The problem is - there are so few older women who really believe they have anything worth sharing. That may be in part, because they don't feel they've arrived yet.
However, there are among us woman who have found solid truths on which to base their lives, and discovered ways of coping or ordering their own lives, and the environment for ones they are responsible for, whether that is a family, employees, or students. Sometimes someone else has to come along and point out all the skills and gifts you are demonstrating and urge you to share and invest in a younger person, to make life easier for them.
I have reviewed a book written by two women writers in a mentoring relationship. Edna Ellison and Tricia Scribner wrote a workbook called,Seeking Wisdom, Preparing Yourself to be Mentored, (published by New Hope Publishers). [Click title for my review in a separate window].
They describe mentoring as a rich lifetime friendship, involving elements of teacher-disciple as well as coach-trainee relationships. This can be mostly in the area of spiritual growth, a skill or ministry, in wife and mother roles, or in life generally. But they prefer to use a Hebrew term for friendship, merea (mah-RAY-ah) when talking of spiritual mentoring.
You'll find these words on this site too. Especially in this area, where I explore and provide helpful pages for both mature godly women, and those who would like to match up with such a woman for a special mentoring relationship. Watch for more of the links in the right column under Arbour to become alive as the pages are added.
A theme of my life is about making Friends for the purpose of blessing them with some kind of mentorship. That "Friends" section of this site has many articles on this very theme.
Arbour Pages: Photos of My Parents ~ Dad at 90 ~~ Day of Dad's Funeral ~~ New Author Pics (2005-2006) ~~ Friendship - About Helping Your Friend Succeed ~~ Defining Mentor or Merea ~~ Let me learn English and READ! ~~ What it Takes to Write for Kids ~~ Writing Tips ~~ Publishing Tips for Do-It-Yourself-ers ~~ Successful Goal setting Spiritual Retreat ~~ Come Tour Hague, my Hometown~~ Arbour Index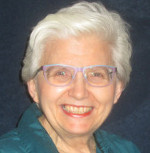 Ruth Marlene Friesen
The Responsible One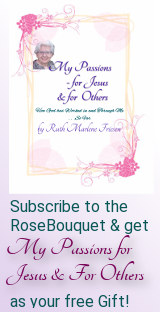 Author Card
Privacy Promises ~~ Sitemap
Ruthe's Secret Roses (official site)
©2001-2022 Ruth Marlene Friesen
Saskatoon, Saskatchewan, Canada