Let me Show You Around Hague
This is my hometown, Hague; I took these photos on a walking tour in 2006, just before Easter. You see some clumps of old snow, telling you that spring has arrived, but not fully rid us of every sign of winter.
[Note: I moved to the city of Saskatoon after Dad died in 2007, so this is my souvenir walk through Hague for the sake of memories.]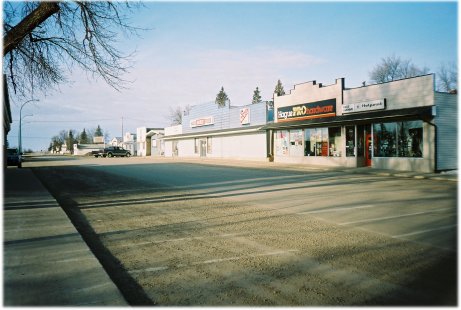 From the far left, we see the "Dew Drop Inn" (cafe), Reflections (hair salon), MCC Shoppe, Bigway (groceries). After that would be the Hague Hardware.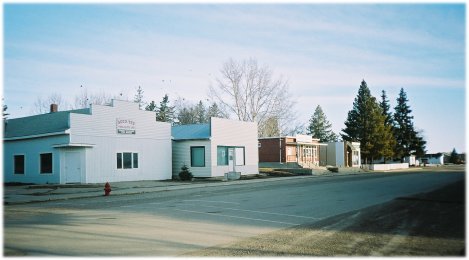 Continuing north - past the last block of downtown businesses, we see a machine shop and a craft store (in old post office building).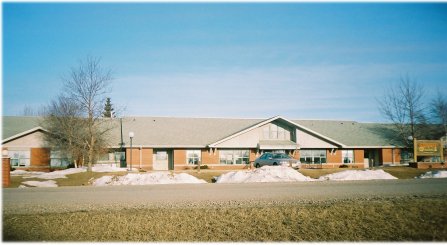 Now we are passing the quiet Sunset Manor (seniors' apartments) as we head north out of town up a gravel road.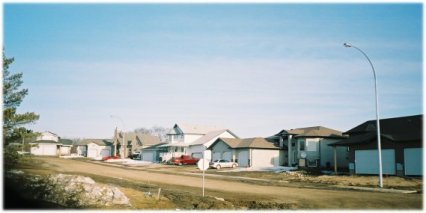 There's that brand new street of houses just past Sunset Manor. It circles around behind the Manor and joins up with Smith St.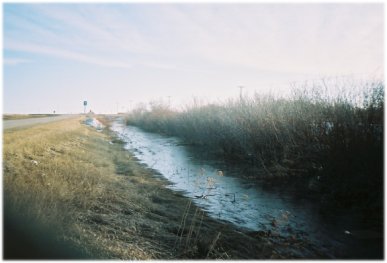 Do you notice the water in the ditch just opposite Sunset?
We'll go just past that sign up ahead, and then take the crossing over the tracks, and come back on the other side.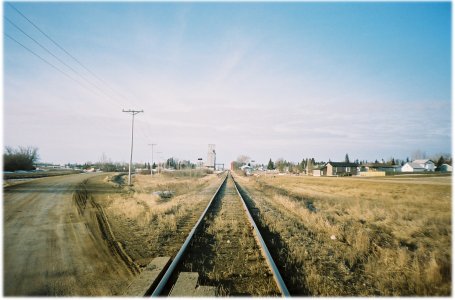 Here we are looking down the tracks back into Hague from the north. The whole town is only about six blocks across in any direction. Although there are new streets or crescents added every year now it seems.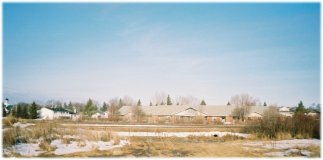 There's Sunset Manor again, looking over the tracks from the east side.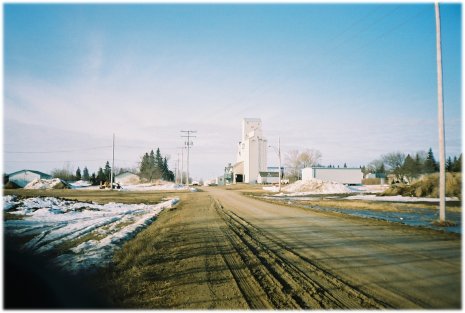 We are heading towards the grain elevator. Hague is one of the few towns to have one left in Saskatchewan. They are disappearing!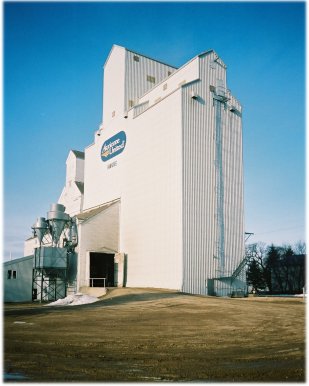 Yes, you have to look up - way-y up!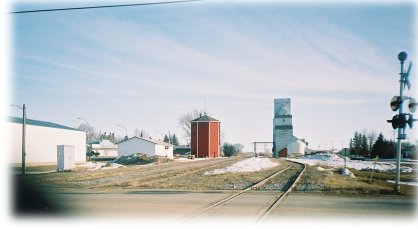 Now we're coming up to the railway crossing that is on 4th St. the main entance into Hague, where we can see Hague's water tower. It's an unusual landmark left over from the era of the steam engine trains.

Glance straight ahead - no a bit to the left, and you'll see my favourite view of Hague! Don't those two-story houses look like they have character?
Guess what. We live on the same block - just straight up ahead,, past three houses.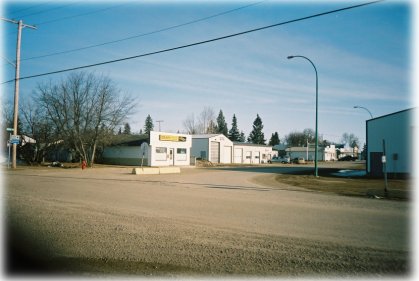 A quick, glance to the right as we stop at the 4-way Stop sign in the centre of town. That's the first block, mainly a video store, a car wash, and a Garage to have vehicles of ALL kinds fixed. (We saw the other two blocks earlier).
Now I just have to cross the 4-way intercession, go past three houses, and I'm home again.
It's been nice walking with you today. I'd invite you to come again, except that I don't live in Hague any more, and the last time I had a drive through the old home town last summer (2021) was with my brother and sister-in-law. Ernie and I could hardly point to anything that was the same as when we were growing up. The town keeps growing and changing. So these photos now hit a soft spot in my heart and memory!
Arbour Pages: Photos of My Parents ~ Dad at 90 ~~ Day of Dad's Funeral ~~ New Author Pics (2005-2006) ~~ Friendship - About Helping Your Friend Succeed ~~ Defining Mentor or Merea ~~ Let me learn English and READ! ~~ What it Takes to Write for Kids ~~ Writing Tips ~~ Publishing Tips for Do-It-Yourself-ers ~~ Successful Goal setting Spiritual Retreat ~~ Come Tour Hague, my Hometown~~ Arbour Index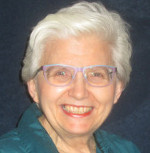 Ruth Marlene Friesen
The Responsible One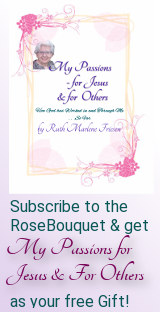 Author Card
Privacy Promises ~~ Sitemap
Ruthe's Secret Roses (official site)
©2001-2022 Ruth Marlene Friesen
Saskatoon, Saskatchewan, Canada