The Merciful God of Prophecy
His Loving Plan for You in the End Times
by Tim LaHaye with Steve Halliday
Published by Warner Books
ISBN: 0-446-53024-7
My friend Kathy said, as she loaned me her copy, "This book takes out so much of the fear of the end times that I've always had."
I think Tim LaHaye must have run into many others who have heard snatches of information about the end times, and it spooked them so much they closed their minds to a lot of God's preparatory information in the Bible. He certainly has done a good job here, of showing how God got this bad rap, and what He is really like, and what He really said about the end of this age.
Although I've studied up on these prophecies enough so that they have not terrified me, but rather made me look forward to Christ's return, still, I was grateful for LaHaye's approach in this book. I agree heartily with him, and found new devotion welling up towards God for His great mercy!
You don't need a high education to read this book. The average reader, with perhaps an elementary level reading skill can easily understand it.
One theme in the book I haven't seen brought out much in other books, is that Jesus is the essence of prophecy. In fact, Jesus is the Great Prophet. He uttered more prophecies in His three years of ministry than all the other prophets of the Old Testament put together. It was Jesus who prophesied the advent of the Church. No one else had ever mentioned it before. He prophesied the Great Tribulation. Again, no one else had ever so much as mentioned it before. It was also Jesus who told us about His second coming.
LaHaye personalizes these wonderful truths for us in showing how they relate to our present life, and our future. He brings out no less than seven reasons why prophecy really matters to us.
In the end he asks, "Can you love a God like that?"
Naturally, my answer is a resounding "Yes!" Even those who have had very sketchy information about the coming end to this age in human history, will have to give the same response.
If you wish to study this book with a small group, you'll find questions and answers and a discussion guide in the Appendices at the back. The Q&A section gives thorough answers to the main problems people have presented to the author. i.e. How could a God of love allow something like the Tribulation to happen? How could he permit so much suffering?, or, People hold all kinds of opinions on how to interpret prophecy. How can anyone know which opinion is right? There are quite a few more, and this makes a great complement to the whole book, as do the excellent discussion questions.
Back to Index of Reviews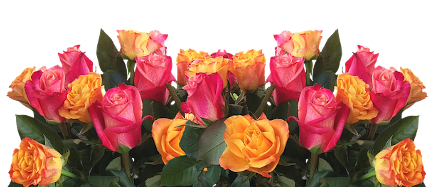 . . . . . . . . . . . . . . . . . . . . . . . . . . . . . . . . . . . . .


. . . . . . . . . . . . . . . . . . . . . . . . . . . . . . . . . . . . .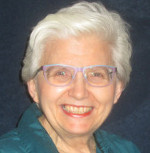 Ruth Marlene Friesen
The Responsible One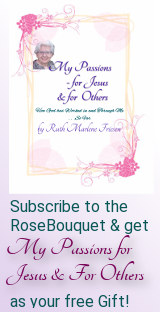 Author Card
Privacy Promises ~~ Sitemap
Ruthe's Secret Roses (official site)
©2001-2022 Ruth Marlene Friesen
Saskatoon, Saskatchewan, Canada