Ruth's Devotion to Her Friends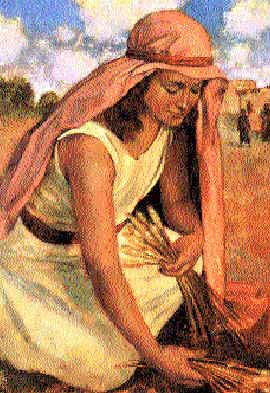 It doesn't take long to read the story of Ruth in the Bible. But do the specific details begin to blur in our minds? We may start to assume that Ruth knew she would marry Boaz in the end, when she vowed to her mother-in-law that she would never leave her, or Naomi's people and God. A fresh re-reading has reminded me that Ruth did not know the outcome at the time she made that famous pledge of loyalty and devotion. A pledge that has often been used at weddings.
"Don't urge me to leave you or to turn back from you. Where you go I will go, and where you stay I will stay. Your people will be my people and your God my God. Where you die I die, and there I will be buried. May the LORD deal with me, be it ever so severely, if anything but death separates you and me."
This vow shows one of the strongest degrees of friendship. That it is between a young woman and her mother-in -law tells me that it is not reserved only for a marriage, but for any friendship.
As a poor widow, Ruth qualified for the provision in Israelite law, that the poor could glean by hand after the reapers. This led to extra kindness from the landowner, Boaz. As Naomi quickly pointed out - he was a potential kinsman- redeemer besides.
So Ruth appealed to him for protection, and by law this included marriage. Boaz made sure he was in legal position to do so and then he accepted the option to redeem her deceased husband's property, and produce an heir for his bloodline. Naturally, he gained a bride that he admired and was ready to love as his own wife.
The observation I make here today is that Ruth's pledge of devotion to her mother-in-law-friend, Naomi, led to this other friendship that greatly benefited and blessed her with happiness. This happens to faithful friends all the time. Those who are a true and loyal friend in one relationship will gain others and continue to be a great friend in each instance. They usually do not go fawning on everyone they meet, but if they have one fine friendship, and if they choose to be your friend, you can know beyond a shadow of a doubt that your heart is safe with them. They will bless you and not hurt you the rest of their lives.
This encourages me to look about for such people. One of the best ways to attract such friends is to resolve to be a loyal and true friend like that ourselves.
Let's review the friendships we already have. Where we can improve one by a change in our behaviour, let's give it a try. We need to practice some where. Where a friendship is unhealthy let's abandon it as quickly and quietly as we can.
If we have no friends whatsoever, let's look around for someone who needs a friend, even for just a few minutes. Let's practice a thoughtful kindness to them, and see if our live doesn't open up into new directions.
You already know what it means to be ruthless. Instead, be a Ruth - her name means a loyal, compassionate friend. I like that meaning, so I wear my name gladly.
[Note: if you missed any articles in this series of article on Friendships in the Bible, and want to read them, you'll find them all linked from this index which is about Friendships.]
My Theme of Friendships
My novel, Ruthe's Secret Roses, and this related site have a Friendship theme. By getting to know and follow around the heroine, Ruthe, you can learn a lot about friendships, and that there is one that is the golden key to enriching all your other friendships and making them more satisfying. The site is more like a perfumed poupouri of articles and pages on that theme, and I've started a series on the friendships we observe in the Bible and what practical insights we can gain for our own friendships by thinking about them
Visit the RoseBouquet for my weekly short articles about what is happening in my life, week-by-week.
You may also subscribe to the ezine edition and have it delivered to you every week, using the subscribe form in the right column on this page (or almost any page).
Are your friendships important to you? You'll want to read the first eight chapters of the book or order it in either softcover or e-book formats, Ruthe's Secret Roses.
Also from Booklocker.com
Back to More Articles About Friends and Friendship.