Ruth Marlene Friesen: Welcome!

This site is like Ruthe, the heroine of my novel, Ruthe's Secret Roses

Ruthe is . . .
intimate with God,
prays a lot,
a bleeding heart for the hurting,
a big sister,
rescues friends,
has creative ideas,
likes to give surprise gifts,
loyal to friends,
dreams of love and marriage,
dreams of writing a book
goes the extra mile

So this site offers;
good books to read!
help to become Friends with Jesus,
The One Ideal Real Friend
a cure for loneliness
An Older Sister's Coping Secret
how to pray Panic Prayers,
& regularly/daily
devotionals,
how to grow in faith
Christian mentoring,
how to share your faith





Wow! This little lady gets around doesn't she! The style is unique, not your typical bookstore novel. I like the "stream of consciousness" effect as we see into her thoughts and she talks to her Companion about everything.
Internet friend, Rose Clarke
Thank You for choosing to Purchase this eBook!
You are buying Ruthe's Secret Roses as an electronic or e-book of 77 chapters at - $5.99 US$ in your choice of either; HTML (.exe) - or PDF (it comes in a zipped file, for faster downloading)

Please choose the format and background of pages you think you'll prefer ~~ you can always get back to me and ask for an exchange to a different one, or even a refund if the book is a great disappointment~~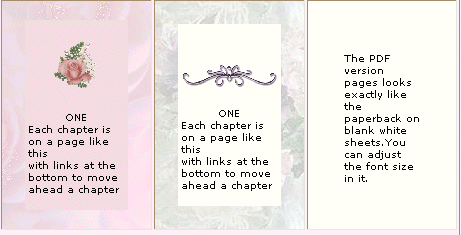 SR - Muted pink roses ~~~~ RR - floral background ~~~ Plain white pages





ClickBank is happy to take your credit card payment through any of these cards; MasterCard, Visa, Discover, American Express, Eurocard, Novus, and Debit cards - from any country. It will also accept checks from US bank accounts.

As soon as you are finished with the Credit Card forms, you will be returned to this site, where you specify which format you want it in, and get your download instructions. The e-book download will take about 5-8 minutes. This is the quickest way to make your purchase, and to start reading.

Credit card ready? Click HERE to make payment. Or -
ClickBank Payment Link



Please note: your Credit Card statement will show you made a payment to CLICKBANK/KEYNETICS - not to my name, although "Ruthe's Secret Roses" should show up on your statement. Please don't be confused or frustrated when you see CLICKBANK/KEYNETICS on your statement too. It is easy to forget such a detail. ClickBank acts as my Merchant Agent in this purchase.


Once ClickBank has processed your payment,
you will be forwarded automatically to the Download Page where you must click on the e-book format you want to trigger the download.

If you have questions or run into problems, use this handy form to contact me;

About Ordering NOVEL by ClickBank
Please use the form on this page if you do run into problems.





SYNOPSIS:

18 year old Ruthe supports her family as a telephone operator, but what she really does in her free time is - walk and talk with her Best Friend in an imaginary garden, where her new friends are the roses that they discuss.

Her irratic shifts confuse her family so that she gets away with not telling them of adventures in her free time, where she rescues city strangers and impacts them forever.

Do you wish a miracle-working angel would rescue you from your family problems? Wouldn't you love to have a perfect friend show up when you're in crisis? Ruthe is that kind of friend.

But she makes so many of them, and keeping them a secret from her family back in Kleinstadt has to catch up with her sooner or later. There's Darlin' Bonne and the girls at the Shoppe, Lisa the former prostitute, and Phyllis, known to her high school students as the Fire-Spitting Dragon, to name a few.

What about that mansion given to her? Does she really turn down all those guys? Ruthe is one complicated person, but the more you get to know her, the more you'll think of her as your friend, and you'll want to help her out when she finally grapples with her personal crisis in deceiving her family.

AUTHOR:

Canadian, Ruth Marlene Friesen, moved home for about 20 years to care for her aged parents. Her mother died in 1997. She was a homemaker and caregiver for her dad, who died in 2007, just four days after he turned 91. He got a fast galloping lung cancer at Christmas and was gone on February 24.

2007 was a very busy year for Ruth as she settled her dad's estate, found a new home in Saskatoon, and moved there to take up many more challenges! Such as becoming a missionary with Western Tract Mission, Inc, and running a new business, taking on clients for web design and tutoring in computers.

"I collect friends the way others collect souvenirs or treasured old antiques," she says. "I look forward to making and helping the new friends.



(Other Options:
PayPal ~~ Mail order)



Print copies are available at BookLocker.com/books/642.html The book is on it's way to buyer within 48 hours.

Also available from Amazon.com,
and most bookstores will order upon request.




Once again, I thank you very much!
Ruthe's Secret Roses available in softcover! Purchase it at BookLocker.com and it will be in the mail to you within 48 hours!


The novel:
Order NOW
Author
Read it Right NOW!

Available at:
BookLocker.com
Amazon.ca
Amazon.com


Site Hostess:
About Me
Reach Me
Media Kit
History
In the Garden
RoseBouquet
RSS feed!

Privacy Promises
FAQs
Site Map
Search
Best Friend




FIRST REVIEWS:

Your book was a pleasure to read. I loved all the transformations; the physical makeovers, the home decorating, and best of all, the total heart conversions. All are made possible by an unassuming young Mennonite woman who trusts God to lead her and work through her.

There aren't many books written about the Mennonite way of life; particularly having them associating with other faiths, and sharing their faith.
(Kathy Wollf - First Reader)



I love it! Your style of writing is excellent, especially the way you build interest and keep me wanting to read faster and faster. What a wonderful story :-)
(Connie Lepovosky, former Typesetter).