Make Your Own
Creative Christmas Cards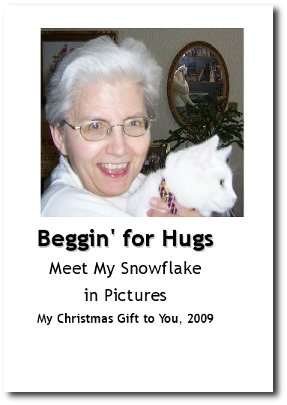 Just watching people's positive reactions when they open a creative Christmas card will lure you to make your own creative Christmas cards again and again. What impresses you in a card, is likely to go over well with others too, but you can learn to shine with certain types of homemade Christmas cards. Some people will treasure your cards, and put them away as keepsakes.
Creative Christmas cards don't have to look homemade. There are many artists and creative people who are happy to design them for you, if you don't have the skills or time. There is a movement, loosely connected to the scrapbooking culture, that loves to make greeting cards that are works of art. These can be prints of a painting, or very unique photography, or built up with layers of attachments, and textures to make the Christmas card two and three-dimensional; inviting the recipient to feel and touch them.
If you want the labour-intensive, "every card is a work of art" kind of creative Christmas card, you should plan on preparing them months in advance. Especially if you have a long mailing/giving list for your creative Christmas cards.
Should you want something just a notch above the usual boxed Christmas cards, you can make some with a lot less bother, but they will still go over as creative Christmas cards.
Here's a few options;
1. Paint a picture, take a photo, or beg permission to use someone else's artwork. Work your cover greeting into this digital graphic on your computer. Decide on size and quality of paper, and print, or have printed, your batch of cards. (A batch can be just one, or dozens, and even hundreds).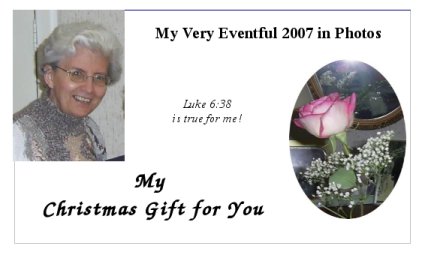 There are other artistic things you can do without having to paint a perfect picture or use a prize-winning photo. I have often complained that I missed out on an art education, so I have to fool people by using artsy kinds of tricks.
2. A colourful swatch of gift wrap paper glued onto the card stock front at an artful angle, and then another Christmasy picture or graphic cutout glued on top of that at an opposite rakish angle provides a 3-D texture. Since my handwriting is not as consistent and attractive as I wish, I usually work the title message into that second graphic which is my last layer - or, I find a home printer that will accept my card-stock and print those words on the front.
(By the way, if you ask nicely at a professional print shop you can often get a box of assorted card stock cuttings from their production floor for nothing. The cuttings are just headed to the recycling bin anyway).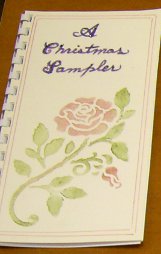 3. Lay a Christmas design stencil from a craft store on the paper, and paint in the gaps and holes. I've done a stylized Christmas rose that way. There are many more at the craft store!
4. Make some marbled paper by swirling 2 to 3 melted wax crayons in a tinfoil pie plate over a warm stove element, and quickly laying down and picking up some squares of paper in the hot wax. You'll get some beautiful impressions! Trim them afterward to fit onto your card stock like a piece of modern art. Now create a red poinsettia with crochet cotton on a daisy winder, and glue that on a corner of the marbled wax art piece. It may not need any words. (Or, attach buttons or any other attractive do-dads for a two or three dimensional look).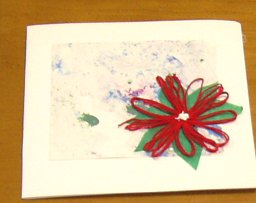 5. Get an out of date wallpaper sample book from a store (sometimes offered for free), and cut pretty strips of wallpaper to glue down one side of your card front. Use the space beside for your Christmas greeting in careful calligraphy. Or perhaps, have the card stock printed with the message before you add the trim.
6. The same idea works with suitable ribbons or laces instead of the wallpaper.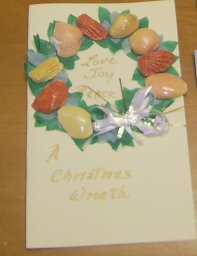 7. If you won't be mailing the cards, you might even glue on three-dimensional things like seashells in the shape of a wreath. These are best when you will be handing the card over in person.
I wish now that I had saved and better organized a sample of the Christmas cards I have made every year for the past 27 years. (If I had time to scrounge through a lot of boxes in my basement I should be able to come up with a few more).
There is so much scope for creativity, that even though I work mostly with things I find for free and don't spend money on card-making supplies, I have often come up with more ideas in my planning stage than I could use. Usually I picked the one that would go with the mood of my greeting and my new Christmas story or photo story, and that would be easiest to mass produce. (When you are making up to 100 or more cards, you really need to streamline your repetitive steps).
When I first moved back to my parents' house in 1983 to care for them in their old age, I had no salary, and had to learn to trust God for any resources, and snap up free stuff like card-stock and wall paper samples, and bits of lace or fabric. At first I thought it would be an exercise in resourcefulness and creativity for a year or two. But the years ticked away, and my role as live-in caregiver with very little income lasted 23 1/2 years.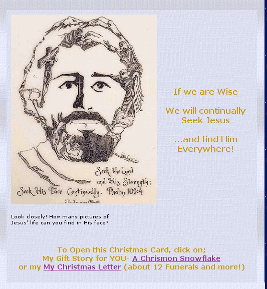 I'm not proud of every card I made, but "my necessity was the mother of invention," proverb that I often quoted to friends, and having to make do forced me to think more resourcefully and creatively. Which, in turn, developed my skills in designing creative Christmas cards.
I used to stand in a store, looking over the cards on the rack for inspiration. That's not necessary any more. If you find yourself dry for inspiration, go online and checkout some design ideas at sites like the following for various degrees of help;
www.zazzle.ca/
has lots of ideas to borrow from or order cards.
www.AllCrafts.net/
Look at all the craft ideas here!
www.VistaPrint.ca/
wants to print them for you at a good price.
If nothing else, I hope I've intrigued and tempted you enough so that you'll try your hand at making your own creative Christmas cards. If there is not enough time for this year, plan ahead, and work up some ideas for next Christmas.
See also - Custom-Business Christmas Cards
Back to the Index of Resources and Gift Ideas