What's New: My Mail's Ready - But it's Way TOO COLD OUT!
Do you recall how last week I was lamenting that interruptions had kept me from housework on Saturday and from writing my intended batch of replies to my Christmas mail?
Well this past Sunday I had no such interruptions at all. So I got my batch of letters done, and even a small parcel, and a gov't survey that I've finished.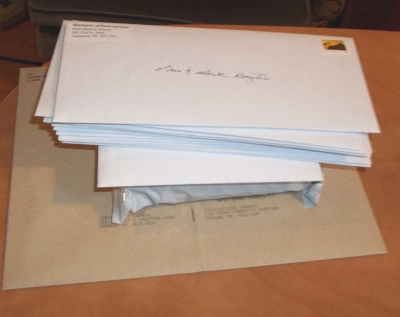 But guess what. A great DEEP FREEZE rolled in from the north and settled on our province. Here in Saskatoon we've been having temperatures like -32 Celsius, with the windchill factor making it feel like -41 C!
Right now, near noon on Tuesday it has warmed up to -22 C, but I'm not sure yet that I want to bundle up and hike over to Ave. H. to the nearest mailbox to send off my mail. I intend to wait until it as about as warm as it will get in the afternoon, and then go out to sweep my steps and front walk. If my face and hands can tolerate that temperature, I may just talk myself into hiking over to Ave. H, and the mailbox. I can be there and back in 10 minutes if I don't run into any icy patches.
I guess I've just become more chicken about cold weather as I've got older.
Yes, I could take the car, but I forgot to plug it in. So if I go do that, I have to come in, wait a few hours and then go out . . . and I will need to do that later this week, for groceries, but I think I'll be more willing on Friday when it will only be -10 during the day.
<<*>> TIPS & SOLUTIONS: <<*>>
Try Always to Get Rebates When Shopping Online
Have you taken up shopping online in this Pandemic? Did you know that if you learn to use Shopping portal sites, you can get rebates or money back from just about - or probably every purchase? I have come upon these in my rebuilding of my current website and updated the information.
I'll give you three links to explore. You may find you like one better than the others, but they are all free to join, so why not open an account at each one and do some research there to see which one gives you the best rebates at the stores you want to shop at.
Cash Back World (The biggest one)
Rakuten (The Canadian link)
Rakuten (the American link)
Great Canadian Rebates (American can join too)

[Back to Archives Index ] ~~ [Back to Main RoseBouquet Page]