The Garden After a Rainy Day
The news in our province has been full of comments that we were in great danger of a drought, but rain was forecast for Sunday and Monday. I had lined up the neighbour with the rotortiller to prepare my garden for seeding. He agreed for Monday evening, depending on the rains that were forecast.
Well, Sunday was a warm and sunny day all day long, but the rains began softly that night. It rained steadily all day yesterday (Monday). I was so pleased. My rain barrel was overflowing and my garden looked nice and wet and even.
This morning it is cooler and windy, and the forecast is for the clouds to lift tonight, and the temperatures will drop to below freezing.
After breakfast I went out to see how my irises were coming along. Ah, the leaves are growing up nice and tall. There are even little offspring plants popping up beside them!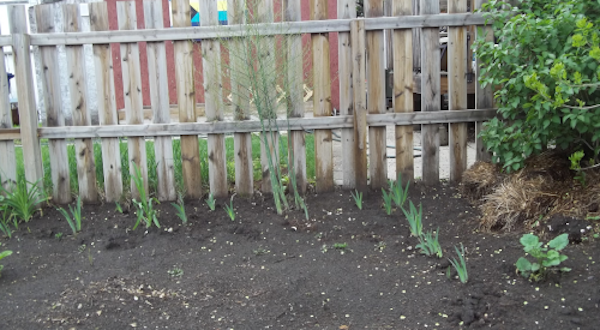 irises lined up ready to bloom!
The hollyhocks from last year are just booming with growth this year, and as this is their second or third year, I should see some tall plans with lots of flowers this summer! (They have the broad, round leaves over to the left).
Remember how last year I dug up what I thought were the 7-8 irises from Mom's flowerbeds in Hague, and ended up finding places for 40+ irises? Well, I'm watching and waiting now for all those blooms!
Then I turned around and there by the east neighbour's fence is a ring of irises around the clump of green onions. I think those are the dark purple ones that my church friend, Leah, gave to me about 2 or 3 years ago. They have multipled too!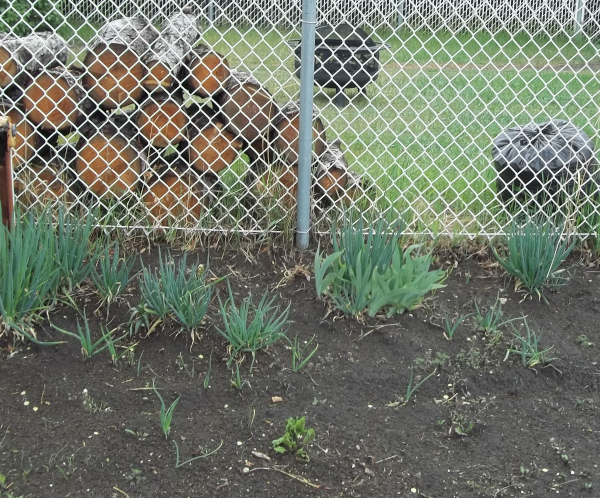 A ring of irises around a clump of green onions.
I did sow four short rows along that fence on Saturday. Lavender, sorrel, enchincea and dill. But I need to wait a few days for my garden soil to drain or dry up enough so I can walk all over it and draw my lines with my hoe, and start sowing the seeds I've prepared. Since the temperatures are to drop well below freezing tonight. I'll just hold on and wait.
My stamina has already increased to where I can be out and on my feet for just about an hour at a time now. So perhaps I'll get most of the work done this next Saturday, instead of dragging the seeding out for a month or so.
[Back to Archives Index ] ~~ [Back to Main RoseBouquet Page]