Will a Generous Person Prosper?
Are you gearing up for gardening too? Or is that in your far distant past?
What do you think; does being generous automatically give you great fringe benefits? I suspect our reflex answers would vary. Perhaps depending on your life experiences or outlook generally.
But you see, I'm stil working on re-building my site, generosity-alive.org, and I've been surprised at the articles I'd written some years ago, and the strong Biblical views I was able to express on giving and being generous. But now I've been copying the posts that a friend who has travelled a lot, has posted in the blog area, with the intention of putting them into e-books, and I'm caught off guard with the many stories he has told about spotting generosity in many ways and places.
He goes by the pen name, Global Nomad, and I believe he has written close to or even over 500 such posts! When I have compiled them into ebooks (I think it will be more than one!) I may be able to comment on some over-all observations. For now I am brought back to one of my favourite Bible verses which I have made into one of four rotating backgrounds for my desktop.
It says, "A generous man will prosper,
he who refreshes others
will himself be refreshed." (Prov.11:25 niv)
I can even show you a smaller version of this background.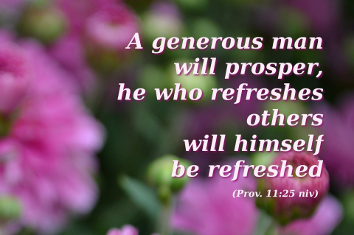 I plan to put it on one side of my business card.
May I recommend that we all take some time to think objectively about generosity and our experiences. Have you been refreshed when you blessed someone else with generous gift or gesture? Did you see that as God's way of rewarding you?
Remember that the reward may not show up instantly. Just as when we garden, we do not pick and eat our harvest in the same month as we sow the seeds.
If you were to share a story of generosity - perhaps from someone else to you - what would you include as important parts of that 'story'? Or, if you gave generously to someone else, how were you surprised at the "refreshment" that God put into your life?
[Back to Archives Index ] ~~ [Back to Main RoseBouquet Page]