My Freezer, Dead & Resurrected!
Yes, I've had a minor miracle; my freezer was dead, but resurrected again.
This story begins last Friday. The colder temperatures had finally crept up to the near single digits. (Like, -11, -10, and then -9). I had told myself earlier in the week that my grocery list was growing but I could last until Friday. I would go shopping late in the afternoon on Friday to stock up. But then my car battery would not turn over.
I went back into the house and called the CAA. They promised to send out the battery man with his van. He called after a bit and said he'd be here in 15 min. It took a bit longer than that, and at first he drove right past me. However, he got the battery started up on the first boost, and he advised me to let the car run at least 20-30 minutes or it would stall again. I told him I was going for groceries which is about 15-20 minutes away. That would do it.
At Superstore I loaded down on a number of things. It cost more than I usually allow for a shopping trip, and when I got home it took at least two trips through the garden. For the second one I went into my pantry to get my little brown 2 wheel cart, to bring in the heavier groceries.
Ah! that's when I spotted the puddle in front of the Freezer in the pantry. While I was unpacking the groceries I looked inside the deep freeze (an upright, about the size of a fridge). Oh-oh! It must have stopped running a couple of hours ago. Some of the things were already soft.
My next thought was to call Cousin Gary. This had happened one Sunday last year (about this time) and he had got it going again by plugging it in differently. Gary was in Saskatoon, so he was over in a few minutes.
He pulled the freezer away from the wall, but couldn't do anything with the plug. I handed him the blue extension cord. No go. I went downstairs and brought up three more. None of them worked. Gary figured that at the very least the cord was toast.
When I explained that this freezer had been in my parents' basement when I moved home in 1983 to look after them. I'd taken care of them for 23 1/2 years, and now I'd had it here in my house for going on 14 years. So the freezer was at least 36 years old or maybe more than 40 years. At that, Gary suggested I go looking for a new one.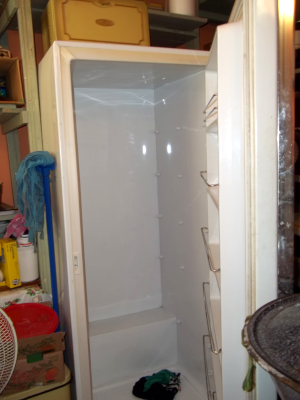 Meantime, he helped me put the food from the freezer into a camping cooler and 2 big plastic bins I brought up from the basement. We carried them into the back porch, where they should freeze over night. Gary did suggest taking them outside... when I mentioned that there are stray cats and dogs that come prowling around my back door, he suggested I pull out the garden tools from the big brown tool bin and store the food there.
I shook my head in disbelief. Couldn't he see I was already panting from all the work I'd been doing the last couple of hours? Besides, then every time I wanted to fetch something for the next meal I'd have to put on my boots and parka and go out there to root around in the bin to find what I was looking for. With a flashlight if at night!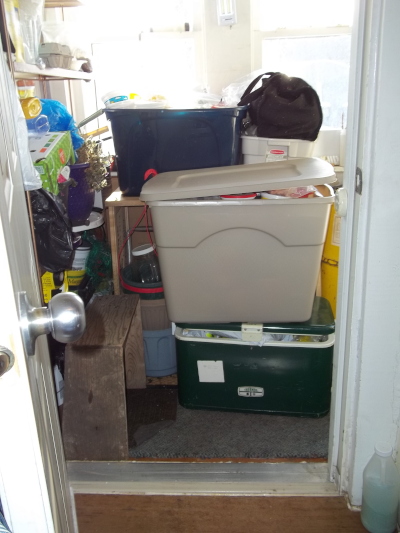 I assured Gary that I would start looking around for another freezer the next day, or ... recalling that Mike's Used Appliances had sent out a repairman last year when my washing machine downstairs, always was in a puddle when I did laundry, but that man had fixed it so that I didn't have to go buy a new washing machine. Maybe... if all this freezer needed was a new cord, it could be fixed and I could put off buying another appliance for a while longer.
That evening I spent time checking out freezers online. New uprights like mine were over $1000. Second hand ones ranged from $200-500 but were mostly small chest freezers. That would really limit my capacity to freeze food! I prayed about it and committed the matter to the LORD.
I was grateful that the temperature in the back porch was definitely freezing. But it was hard to find anything in the bins the next two days. The packing was not organized!
Saturday morning I called Mike's Appliances, and he said he'd call Rob, their roving repairman, and have him give me a call. I waited indoors all Saturday, and no call from Rob. I left it alone on Sunday, but yesterday I called Mike again. He promised to contact Rob again, (but he seemed to be hunting for his text to Rob on Saturday... which made me wonder if he'd forgotten).
Well, Rob did call yesterday in the early afternoon and said he thought he could be here after 5 pm. I said that would be fine, but I glanced at my weather station on the chest of drawers and saw that the outside temperature was already +1 C. I was already expecting to have to throw out a lot of my herbs from the garden... I hoped it wouldn't have to be meat too!
But hallelujah! Rob showed up a few minutes before 5 pm. and by 5:10 he was finished. He had only had to fix 2 wires by the compressor, and I could hear the freezer humming! All he wanted was $60 for the service call. He had not needed any new parts.
Well, I had a $100 bill that a friend from Ontario days had sent me for Christmas. He gave me the $40 change and I had a quick supper and then tackled the cleaning of the freezer, and restocking. Yes, I have to throw out 2 buckets full of green herbs that had gone soupy and were beginning to stink. A lot of them were in ziploc bags, so they didn't have much help to stay cold.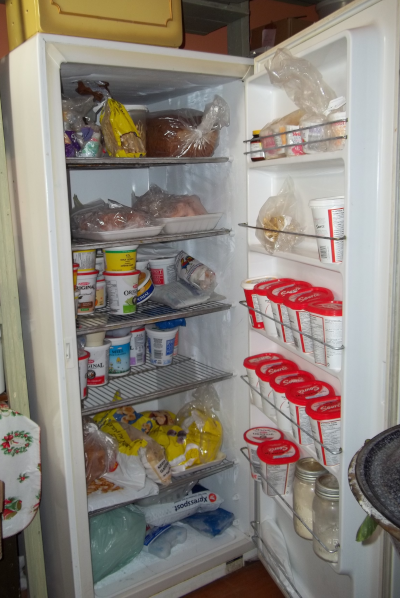 I don't have a photo of how tight-full my freezer was before, but I can show you how spacious it looks now with the stuff for the compost pails removed.
In any case, I am rejoicing and super grateful to the LORD, that I do not have to invest in a new freezer - yet! This old one has been resurrected!
[Back to Archives Index ] ~~ [Back to Main RoseBouquet Page]